IT Support
When you need a friendly person to help with a computer problem you can rely on David at Oxford PC Solutions Ltd. He will respond promptly and will provide you with a professional service. He can resolve most issues you are likely to encounter on a PC or a MAC.
Microsoft, Linux, MAC
With more than 30 years experience working with Personal Computers of one sort or another, David has an intimate working knowledge of the main Operating systems in use today, Microsoft Windows, Apple MAC's and Linux Distributions. David has a BSc (Hons) in Information Systems along side other ICT certificates which means he is able to deal with a wide range of hardware and software issues that affect personal computers, laptops and tablets.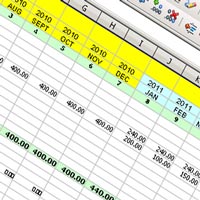 Spreadsheets, Desktop Publishing, Accessible Web Design
Call Out
I do on site visits to homes and to places of work because some issues can only be resolved in this way. An obvious example of this would be dealing with a Network, which usually needs to be setup where the equipment is located. I make site and home visits throughout Calderdale, charging a
Call Out Fee
of £20 if the location is outside of Todmorden.
I do not charge a Call Out Fee to clients located in Todmorden. I apply discounts if you are not well off, ie; in receipt of certain Benefits, have a low income, or if you are a pensioner. The hourly rate I charge for on site visits is £30 per hour, or part of each hour.
PC's, Laptops and Tablets
Some issues can be resolved quickly, others can take quite a while longer to resolve properly. In these cases, it is usually better to bring the problem equipment to me at
Oxford PC Solutions Ltd
. This way the issue can be dealt with for a fixed fee according to our scale of charges.
Web Development
The term implies that a client does not yet have a web presence, or that they do have one but it is not working. David's Web Development skills will assist you in making your presence on the web a successful adventure. Prioritising your content and ensuring that your content and your points of contact are always
Accessible
.
It could be about David taking and processing the photos for your web site, or it may involve commissioning a video for the web, or actually writing the content which appears on your web site. It often includes discussing the details of a design, like the layout and typography. It could involve the Registration of a Domain Name and arranging a suitable Web Hosting package for you, or it may simply be a case of me preparing your own material for the web and uploading it to your existing site. It isn't possible to describe here all of these services in detail, so it's probably best to eMail or telephone David to arrange a preliminary discussion in order to establish what your requirements are.
If you have any IT issue that's bugging you just give David a call on 07833 144296, or use this link to: send an eMail.